GGJ Membership Call Feb 7
[español abajo]
FOR GGJ MEMBERS: 2018 is already off to a powerful start as we see waves of actions from the Dreamers to the #MeToo movement mobilizing across the country.  This will be a critical year for our grassroots movements on so many different fronts of struggle.
We invite you to a special GGJ all member call on Wednesday, February 7th. We will hold this same call twice at 2 different times to offer more opportunities for as many members as possible. Organizers and member leaders are all invited to participate.
GGJ Membership Call
Wednesday February 7th
12-2pm PT/ 1-3pm MT / 2-4pm CT / 3-5pm ET (2 hours)
OR
5-7pm PT / 6-8pm MT / 7-9pm CT / 8-10pm ET (2 hours)
RSVP HERE
Save the date for these three powerful events at key moments of action and organizing, which we will discuss on the call:
It Takes Roots National Action & Community Resilience Camp
(date & time & application to be announced soon)
GGJ National Membership Assembly
July 19-22 in Atlanta, Georgia
It Takes Roots Grassroots Solutions Convention (working title)
Sept 9-12 in San Francisco
On the membership call we will talk about each of these events and how they connect to each other as part of a larger arch of organizing and movement in this next period.  We also have space in the RSVP form where you can let us know what specific things that you would like more time to talk about.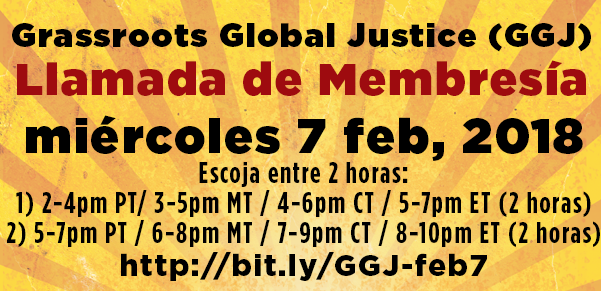 PARA MIEMBROS DE GGJ: 2018 ya ha tenido un comienzo poderoso con las olas de acciones desde los Dream Defenders hasta la mobilización del movimiento #MeToo a través del país.  Este año será un año crítico para nuestro movimiento de base en tantas diferentes niveles de lucha.
Les invitamos a una llamada especial para todos los miembros de GGJ este miércoles 7 de febrero.  Haremos esta llamada dos veces en dos horas distintas para ofrecer mas oportunidades a la mayoría de la membresía. Se invita la participación de organizadores y también líderes de la membresía de su organización.
Llamada de Membresía de GGJ
Miércoles 7 de febrero
12-2pm PT/ 1-3pm MT / 2-4pm CT / 3-5pm ET (2 horas)
ó
5-7pm PT / 6-8pm MT / 7-9pm CT / 8-10pm ET (2 horas)
CONFIRME SU ASISTENCIA AQUí
Guarde las fechas para estos tres eventos en momentos claves de acción y organización, los cuales discutiremos en la llamada:
Campamento Nacional de Acción Directa y Resiliencia Comunitaria - Se Necesitan Raíces
(anunciaremos la fecha y hora y aplicación pronto)
Asamblea Nacional de la Membresía de GGJ
19-22 de julio en Atlanta, Georgia
Convención de Soluciones de Base - Se Necesitan Raíces (título no confirmado)
9-12 de septiembre en San Francisco
En la llamada de la membresía hablaremos de cada uno de estos eventos y como se interrelacionan como parte de un arco de organización y movimiento en este próximo periodo. Tendremos espacio en el formulario para confirmar asistencia donde usted puede indicar su interés en otras cosas específicas que quiere discutir en la llamada.