Highlights from GGJ Congress 2011!
"GGJ creates the space for all of our constituencies to coordinate, to put out unified platforms, to coordinate on media.  GGJ clears a place for the social movements to cohere and magnify our demands."
                                                   - Clayton Thomas-Mueller, Indigenous Environmental Network
            
"I have never been in a space where I have enjoyed and learned from everything I have participated in... I want NC EJ Network to join GGJ!
 
- Everyone at the Congress representing our membership and constituencies!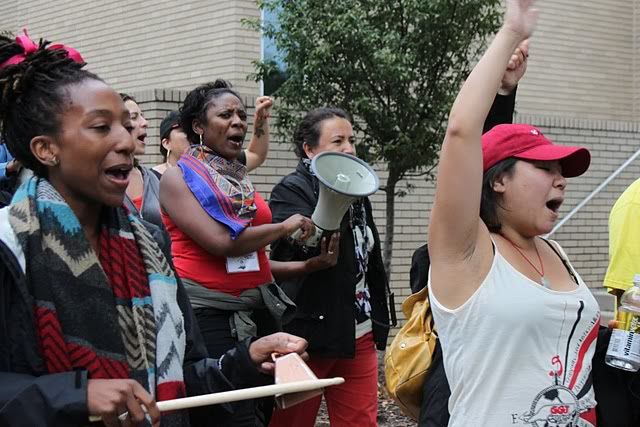 Dear Grassroots Global Justice Alliance members, Congress Participants and Allies:
We are thrilled to call the first GGJ Congress a great success!!!  Thanks to ALL of you, we were able to achieve the overarching goals of our gathering: we truly believe that during this weekend we Broadened our Base, Deepened our Roots and took giant steps in the process of Building Grassroots Internationalism!
 
Not only did we affirm the overall framework of the No War, No Warming! Build an Economy for the People and the Planet proposal, we made significant strides in sharpening our political positions on each area and the intersection of the three.  We also did some foundational work identifying opportunities, questions, and flags for moving the work forward through deepened member engagement.
Key Outcomes of the Congress include:
Moving forward our New Initiative -
Affirmation of the "No War, No Warming, Build an Economy for the People and the Planet" framework as the basis for GGJ's analysis and areas of work for the next period
 Initial 6 months- 1 year work plan directions for each area of work
Conducted 5 successful Political & Popular education sessions to help build the analysis and practice
Deepening our Roots and Broadening our Base -
Though Hurricane Irene delayed us a few weeks and caused us to miss out on the presence of active members -- the overwhelming majority of members and allies originally registered for the Congress were able to come through.  We even had some key additions to the mix who were not originally planning to come.
In the end we had a grand total of 30 member organizations, 20 ally groups, and 3 international allies representing, as well as a number of representatives from potential member organizations and local organizing and cultural groups from throughout North Carolina.
Members held 8 open space workshops covering a range of issues to share campaigns, skills, successes and strategy lessons among participants
A significant and exciting increase in member commitment to leadership in GGJ, with more than 10 organizations pledging the highest levels of commitment to GGJ (as potential coordinating committee members or potential anchor organizations who will lead coordination of the work in each area)

 

1 new organization elected to the coordinating committee: WELCOME THE JUST TRANSITION ALLIANCE AND REPRESENTATIVE JOSE BRAVO to the committee!  Jose and JTA will bring invaluable expertise from years in the environmental justice movement, as well as great strategic insight and humor to GGJ leadership
 
 2 organizations were re-elected to the coordinating committee for 2-year terms: POWER and Black Workers for Justice! Both POWER and BWFJ have been instrumental in guiding GGJ to the point of cohesion and integration that it has arrived at today, we look forward to the new heights to which these orgs can help takeus in the next period.
Building Grassroots Internationalism -
Heard powerful solidarity statements, thorough feedback, and clear calls to action from more than 6 international allies including  Hamouda Soubhi of Alternatives Morrocco, and Desmond D'sa of the South Durban Community Environmental Alliance - their overall messages: GGJ is needed to build a U.S. internationalist force that can undermine U.S. imperialism and link with international social movements to build alternatives to the current systems.  As Desmond D'sa said: "Together we must build a global movement linked from the ground up, made up of people with our backs to the walls!"
Highlighted the need for U.S. jobs programs to honor the rights of ALL workers across the world through speeches at BWFJ/UE action at Republican State Headquarters on Saturday
Began to collectively define "grassroots internationalism" through video interviews and political education discussion with international allies
And much, much more!!!
Story-based action strategy workshop resources:
Or order a copy of smartMeme's book
Re:Imagining Change —How to Use Story-based Strategy to Win Campaigns, Build Movements and Change the World
at
www.smartMeme.org/book
SPECIAL LOVE LETTERS OF APPRECIATION GO TO: The BWFJ local organizing committee - Ms. Linda Suggs, Yuwsuf Bell, Angaza Sababu Laughinghouse, Ciscero Warren, JaQue Fisher, Rick Scott, Angaza Samora Laughinghouse and Ajamu Dillahunt - Justin Flores of FLOC, REACH leaders and members, Naeema Muhammad and Saladin Muhammad for organizing the tour of the Hog Farm and Tabacco Worker Labor Camps,  - All the incredible volunteers especially Sendolo Diaminah: People's Durham, Brigid Flaherty: Pushback Nework and Denise Perry: BOLD.  The dedicated drivers - Ciscero Warren, Rev. John Swails, Kenny Moffit and Bilal Green -,  Ajamu Dillahunt for all his coordination and action organizing, All the cultural workers who shared their art with us - Members of The Fruit of Labor Ensemble, Erin Byrd, Langston Fuse, Bryan Proffitt: DJ, Pam Parker  - Vimala's CurryBlossom Cafe and Chef Lawrence for his food and his donation of his N-1 audiovisual system, Rick Scott for his excellent sound system, James Sok Cindy Perron, Vermont Workers Center and Jorge Glackman and Manzoor Cheema for being the Congress documentarians, the whole translation team and the whole Childcare team, lead by Nathanette Mayo - Jorge Glackman for pinch-hitting help with translation - Treston Davis-Faulkner for winning the giant animal showdown - the Vermont Workers Center delegation for making nametags and helping with registration set up - Ken Wang of CPA for helping with crowd motivation and logistics - the whole crew over at the Brownstone Holiday Inn for being incredibly accommodating, flexible, and warm, and for their really good hot breakfasts - Jessie Smith Noyes and the Sister fund for helping offset the costs of rescheduling due to Hurricane Irene!!