We are in the midst of a storm. The system isn't working.
Posted on Tue, 07/12/2016 - 7:20am
We are in the midst of a storm.
The past few weeks have seen much violence in the US and around the world in Orlando, New York, Baton Rouge, Minneapolis, Dhaka, Istanbul, Baghdad, and East Lebanon. We are grieving, sad, angry, and reflective.
In the US, we call out the history of racist anti-black violence and violence on LGBTQ and gender non-conforming people of color. The murders of three Black men (Delrawn Small, Alton Sterling, Philando Castile) within a day of each other last week at the hands of the police underscores how far we have to go. We also call out the criminalization of protest as a response by the police state every time people express their rage at the lives that are stolen without impunity. We call out the false narrative of good cops vs. bad cops because it doesn't address the fact that the police state was designed as a racist system to oppress people. We call out the double standards of how Black men are shot at the presumption of having a gun, while white people openly carry arms. At a time when white rage is normalized at political rallies and hostility against people of color and immigrants is rising, the central issue is not necessarily gun control, but rather the glaring fact that the value of people's lives is still systemically regarded differently based on the color of their skin.
Abroad, US military intervention has led to the theft of land and the deaths of those who protect it. Berta Cáceres was murdered in her own home in Honduras this March while fighting to protect indigenous land and water. She was put at the top of a military hitlist, and those who killed her received aid and training by the US military. Last week, another Honduran activist fighting another hydroelectric dam project, Lesbia Yaneth Urquia, was also murdered. Every day environmental and human rights activists are criminalized for defending their homes and communities.
As a movement we continue to feel grief and sadness and anger every time a life is taken before its time. We continue to respond when there are opportunities for us to stand on the side of justice. We continue to come out and collectively express outrage and heal together. We will not accept these events as the new normal.
The system isn't working, and we can't depend on the two major political parties to change it. It's up to us. 
As we sit in the midst of this storm with rage against the system and love for our people in our hearts, we pledge resistance in the coming weeks.  Now more than ever we need to continue holding each other, moving forward together, demanding the change our world needs.
We believe it takes roots to weather the storm and change the system. 
We are drawing on our collective roots, across regions, borders, identities and issues.
Next week, Grassroots Global Justice Alliance launches the It Takes Roots to Change the System People's Caravan from the RNC to the DNC.
 We are taking 45 community leaders and allies from the US and Honduras. We are honored that two members of Berta Cáceres' organization COPINH (Civic Council of Civic Council of Popular and Indigenous Organizations of Honduras) will be joining the caravan: Berta's daughter Laura Yolanda Zuñiga Cáceres and Rosalina Dominguez Madrid.
We are traveling in a bus from the Republican National Convention in Cleveland to the Democratic National Convention in 
Philadelphia
, stopping along the way to build with communities in Pittsburgh and Baltimore fighting for environmental and racial justice.
The It Takes Roots People's Caravan is a call to action from communities of color and white folks to confront the growing acceptance and public condoning of racism and xenophobia; from women and trans people to reclaim feminisms for the grassroots; from communities living on the frontlines of polluting industries to build a new economy; from veterans and organized communities around the globe to end US military intervention.
Follow the People's Caravan: #ItTakesRoots #ChangeTheSystem #PeoplesCaravan #RNCtoDNC
---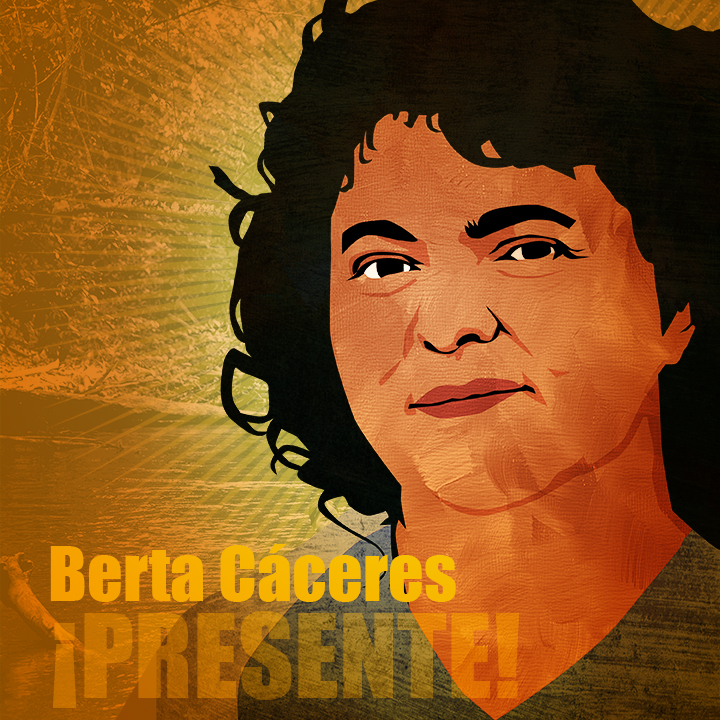 As we prepare to head to Cleveland next week, we launch the People's Caravan this Thursday with a Congressional Call-in Day for Justice for Berta Cáceres and all the other Honduran activists whose lives have been taken violently because of their organizing.  We'll be taking this call to action from Cleveland, to Pittsburgh, to Baltimore, to Philadelphia.
CALL YOUR CONGRESSIONAL REP THIS THURSDAY
This week marks the three year anniversary of the murder of Indigenous leader Tomás García by the Honduran military during a peaceful protest against the Agua Zarca Dam. A community leader and father of seven, Tomás is just one of far too many Hondurans persecuted and murdered by the Honduran security forces for simply standing up for their rights.  Berta Cáceres herself was arrested by the Honduran military on trumped up charges in an attempt to discredit and silence her.  When that didn't work, she was murdered.  
How many more people must be killed before the U.S. stops financing and training the Honduran security forces?  
Call your Representative today and ask her/him to co-sponsor H.R. 5474, the Berta Cáceres Human Rights in Honduras Act, which calls for a suspension of U.S. security aid to Honduras.  
Call the Congressional Switchboard at (202) 224-3121
 and ask to speak to your representative, then request the foreign policy aide.  (If your representative is on the list of co-sponsors below, you can instead call to thank them for co-sponsoring!)
Sample script: "My name is _____. I am a constituent from (your town/city) in (your state). I am calling to ask Rep. _____ to co-sponsor H.R. 5474, the Berta Cáceres Human Rights in Honduras Act, which calls for a suspension of U.S. security aid to Honduras until human rights violations committed by the Honduran security forces cease. Has Rep. _______ seen this bill? Can I count on him/her to sign on? Please call me this week at (_your phone number_) to let me know if you have seen HR 5474, and if Rep. _____ will co-sponsor it."  
If your representative has already signed onto the bill, then thank them for signing and encourage them to get other representatives to sign on.