Lessons and Next Steps from
#

ItTakesRoots to

#

GrowTheResistance

Posted on Mon, 02/06/2017 - 4:18pm
(español abajo)
Lessons and Next Steps from #ItTakesRoots to #GrowTheResistance
Grassroots Global Justice Alliance (GGJ), Climate Justice Alliance (CJA), Indigenous Environmental Network (IEN) and Right To The City Alliance (RTTC)  hosted a call on February 8, 2017 to report back on the #ItTakesRoots to #GrowTheResistance mobilization in D.C. and around the country and discuss next steps in the first 100 days to grow the resistance.
We heard from this incredible group of women of color leaders:
Angela Adrar and Liliana Molina, Climate Justice Alliance
Bayan Jaber, SouthWest Organizing Project
Cindy Wiesner, Grassroots Global Justice Alliance
Ahmina Maxey, Global Alliance for Incinerator Alternatives
Shatia Strother, FUREE and Right to the City Alliance
Melissa Miles, Ironbound Community Corporation
Kandi Mossett, Indigenous Environmental Network
Leticia Arce, Causa Justa::Just Cause
Eva Cardenas, The Ruckus Society
Maria Zamudio, Center for Story Based Strategy
Watch the call here:
We are still raising funds to support this work moving forward.

Sign the Pledge to Grow the Resistance!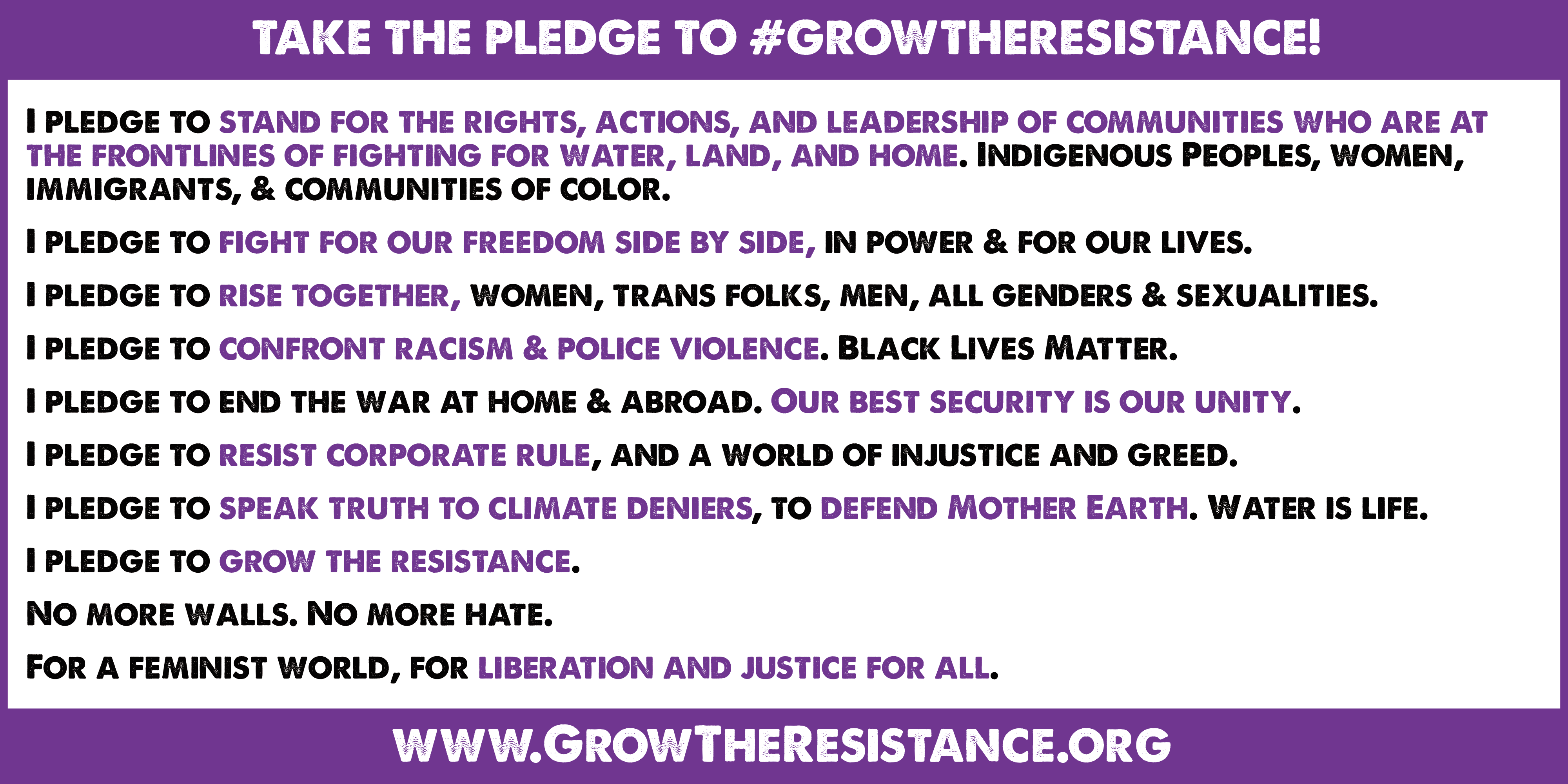 ---
Lecciones y Pasos Siguientes sobre Se Necesitan Raíces para Cultivar la Resistencia
La Alianza Popular para la Justicia Global (GGJ), la Alianza para la Justicia Climática (CJA), la Red Indígena Ambiental (IEN) y la Alianza por el Derecho a la Ciudad (RTTC) organizaron una llamada sobre la movilización histórica de Se Necesitan Raices para Cultivar La Resistencia en DC y en todos partes del país. Discutimos los pasos siguientes en las primeras 100 días para cultivar la resistencia!
Escuchamos de este increíble grupo de mujeres/líderes de color:
Angela Adrar y Liliana Molina, Alianza para la Justicia Climática
Bayan Jaber, Proyecto Organizativo del SurOeste
Cindy Wiesner, Alianza Popular para la Justicia Global
Ahmina Maxey, Alianza Global para Alternativas a la Incineración
Shatia Strother, FUREE y la Alianza para el Derecho a la Ciudad
Melissa Miles, Corporación Comunitaria Ironbound
Kandi Mossett, la Red Ambiental Indígena
Leticia Arce, Causa Justa::Just Cause
Eva Cardenas, la Sociedad "Desmadre"
Maria Zamudio, el Centro para la Estrategia Basada en los Cuentos
Escucha la llamada aquí: