Introducing new GGJ team members!
Posted on Fri, 06/23/2017 - 12:01pm
We are excited to introduce to you three new members of the Grassroots Global Justice team! Check out their bios and photos here, and some words of excitement from them about working on the GGJ team. Feel free to send them a quick hello and welcome them to the GGJ family.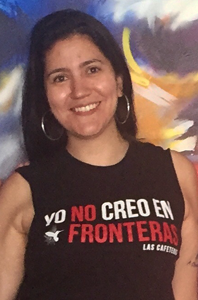 Ana Orozco joined the GGJ team in June 2017 as the Feminisms and Gender Justice Organizer.  Prior to joining the GGJ team, Ana worked in the field of environmental and climate justice both in California and New York City. Ana organized with Communities for a Better Environment against the Chevron expansion project in Richmond, CA. Later, Ana returned to her home in New York City to continue organizing around environmental justice issues with UPROSE in Brooklyn. There Ana worked with community members on a Just Transitions campaign to protect the industrial waterfront of Sunset Park, so that it might serve as a space to produce the necessary infrastructure for New York City to transition to a regenerative energy economy. Ana has a strong commitment to social justice. She brings with her a deep understanding of the need for a Just Transition to challenge systems of oppression. Navigating her way through the world as a woman gives her the perspective necessary to prioritize gender justice in this movement towards a more just society.  ana@ggjalliance.org
"I am honored and humbled to accept the position as the Feminisms and Gender Justice Organizer with Grassroots Global Justice. I'm super excited to start this new chapter in my life and work within the local and national movement towards a just society. I come from the climate and environmental justice movement, having worked with two GGJ member organizations, Communities for a Better Environment in California, and UPROSE in Brooklyn, NY. I'm excited to build with the members of GGJ that have been active in leading the US chapter of the World March of Women. I'm also eager to expand the network of community base building organizations committed to challenging patriarchy within their own communities, and on a larger, national scale. We cannot challenge systems of oppression without first decolonizing our own minds from societal norms and values put upon us by those who seek to oppress and dominate us. Joining the GGJ team and furthering this work will challenge me to be more committed to the movement, not just in my work, but in my life, and hopefully inspire others to unite with us." -- Ana Orozco
---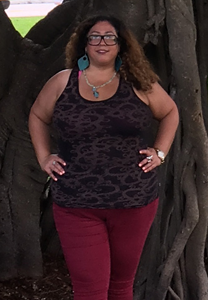 Raquel Nuñez joined the GGJ team in June 2017 as Operations Coordinator & Executive Assistant.  Raquel's understanding and commitment to movement building comes from spending 3 years at LVEJO, Little Village Environmental Justice Organization in Chicago, where she was trained in consensus based decision making and the need to create a sustainable sense of awareness within self, organizational volunteers and members. Through her training she was schooled in why it is important to focus on creating more parks and garden spaces in the community, and participated in the clean air campaign that is currently working on the site remediation of a retired coal-fired power plant. LVEJO partnered with the Chicago Clean Power coalition for the clean air campaign, which was the catalyst for closing the two coal-fired power plants in the Chicago area.  Raquel also spent 4 years working at the MPN Research Foundation where she was the Director of Community Outreach. Raquel is visionary, painter & poet and plans to utilize all her skills to change build the peoples movement and change the system.  raquel@ggjalliance.org
"My passion for movement building and environmental justice is ever growing. I've been engaged and employed in social justice organizations for over eight years, assisting in the leadership and execution of visions, campaigns, and programs. I've provided continuous support of and have been an active part of the local communities to advance environmental and social justice causes. Specifically, I've worked for successful grassroots campaigns geared towards environmental justice and have directed youth leadership programs that promote green infrastructure projects, a renewable energy economy, affordable housing, anti-violence/anti-criminalization, and living-wage jobs in Chicago, Illinois. My role at GGJ is to support, sustain and promote stability of Operations and Administration at GGJ with the intention to build the organization's capacity to better meet its mission especially in the current state of the administration.  I'm grateful and very excited to work with the amazing member organizations that are this movement." -- Raquel Nuñez
---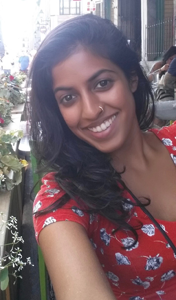 Priya Johnson joins the GGJ team as a contractor this summer to develop and coordinate the 2017 Feminist Organizing School. She cut her teeth in the social justice world as a youth intern with Project South, where she helped organize the first US Social Forum. She went on to work in many international contexts on issues ranging from reproductive health to refugee rights. Most recently, Priya was an education organizer with Youth United for Change in North Philadelphia. She has helped build political education curriculum for numerous projects, including a course last summer on alternative economic models for Universidad Sin Fronteras in Puerto Rico.  priyagrassroots@gmail.com
"As a woman of color and the child of immigrants, I truly believe that our social movements have to build a vision of a feminist solidarity economy. I am inspired by the work of GGJ members and excited to learn from each of you at FOS17!" -- Priya Johnson
---
Appreciating and Honoring past members of the GGJ team
Helena Wong has been part of the GGJ family since 2004 when she participated in her first GGJ delegation to the World Social Forum in Mumbai.  Since then, she has played a role on working groups and committees, been elected to the Coordinating Committee representing CAAAV: Organizing Asian Communities, served on the board, came on as a consulant to plan the Membership Assembly 2014, and then dedicated the past three years on staff as a National Organizer launching the US chapter of the World March of Women.
As Helena said in her letter to the membership: "To say that GGJ has been a big part of my political development would be an understatement.  GGJ is bigger, stronger, and our work now is clearer than ever.  We are responsive in nuanced ways in these uncertain political times and GGJ members are at the forefront of the most dynamic transformative organizing around the country.  I am so happy to have worked with you all and humbled by all that you do."  Helena is now a National Field Organizer with Seeding Change, a Center for Asian American Movement Building.  We appreciate you Helena!
Cynthia Oka came on GGJ staff in the fall of 2015 as our first ever Administrative & Logistics Coordinator.  Within two months of being on the job, she was coordinating logistics for the large delegation we took to Paris in December 2015 for the UN climate meetings.  Cynthia got our house in order, creating user-friendly systems and ensuring functioning administrative structures that make our alliance strong and healthy.
As Cynthia said in her letter to the membership: "It has been an immense honor and joy to work with GGJ over the past year and a half... I have been inspired and grounded by the powerful solidarity, bold vision, and limitless courage of grassroots communities across the US and beyond. For this, I am forever grateful... My heart and spirit are fighting alongside you - always - for a present where justice, dignity, and liberation are no longer aspirations, but a practice, a world, alive in every breath. Because we are the ones we've been waiting for. Because this is our time."  Cynthia is now focusing on migrant justice organizing in Philadelphia as a Community Organizer with the New Sanctuary Movement. We appreciate you Cynthia!
Beth Patel first joined the GGJ team to coordinate our It Takes Roots People's Caravan from the RNC to the DNC last summer 2016, and then came on to contract with us leading communications for the It Takes Roots to Grow the Resistance work through the first 100 days of the Trump administration.  She's now off to get a law degree and we look forward to calling on her in the future when she's a lawyer for the people.  We appreciate you Beth!
Mari Morales-Williams joined the team and hit the ground running for a sprint run in April 2017 coordinating the on-the-ground logistics for our big delegation to Washington DC for the People's Climate Movement March for Climate, Jobs and Justice in April 2017.  We appreciate you Mari!
Egina Manachova coordinated a "Give to Grow the Resistance" grassroots fundraising campaign that raised $10,000 for It Takes Roots to Grow the Resistance!  We appreciate you Egina!
¡Estamos emocionados de presentarles las tres nuevas miembros del equipo de Grassroots Global Justice! Siéntase libre de enviarles un saludo rápido y darles la bienvenida a la familia de GGJ.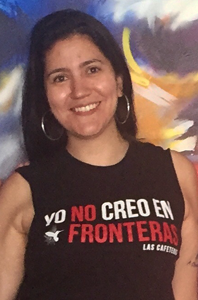 Ana Orozco se unió al equipo de GGJ en junio de 2017 como Organizadora de Feminismos y Justicia de Género. Antes de unirse al equipo de GGJ, Ana trabajó en el campo de la justicia ambiental y climática tanto en California como en Nueva York. Ana organizó con Communities for a Better Environment contra el proyecto de expansión Chevron en Richmond, CA. Después, Ana regresó a casa a la ciudad de Nueva York para continuar organizando acerca de temas de justicia ambiental con UPROSE en Brooklyn. Ana trabajó con miembros de la comunidad en una campaña de la Transición Justa para proteger el muelle industrial de Sunset Park, para que sirviera como un espacio para producir la infraestructura necesaria para la transición de la ciudad de Nueva York a una economía de energía regenerativa. Ana tiene un fuerte compromiso con la justicia social. Ella trae consigo una profunda comprensión de la necesidad de una Transición Justa para desafiar los sistemas de opresión. Navegar por el mundo como mujer le ha dado la perspectiva necesaria para priorizar la justicia de género en este movimiento hacia una sociedad más justa. Ana@ggjalliance.org
"Me siento honrada y humilde de aceptar la posición de Organizadora de Feminismos y Justicia de Género con Grassroots Global Justice.  Estoy muy emocionada de comenzar este nuevo capítulo en mi vida y trabajar dentro del movimiento local y nacional hacia una sociedad justa. Yo vengo del movimiento de justicia ambiental y ambiental, y he trabajado con dos organizaciones miembros de GGJ, Comunidades para un Medio Ambiente Mejor en California y UPROSE en Brooklyn, Nueva York. Estoy emocionada de construir con los miembros de GGJ que han liderado el lanzamiento del capítulo estadounidense de la Marcha Mundial de las Mujeres. También estoy emocionada por expandir la red de organizaciones de base comunitaria comprometidas con el desafío del patriarcado dentro de sus propias comunidades y en una escala nacional más grande. No podemos desafiar los sistemas de opresión sin primero descolonizar nuestras propias mentes de las normas sociales y los valores puestos sobre nosotros por aquellos que buscan oprimir y dominarnos.  Unirme al equipo de GGJ y promover este trabajo me desafiará a ser más comprometido al movimiento, no sólo en mi trabajo, sino en mi vida, y espero inspirar a otros a unirse con nosotros ". -- Ana Orozco
---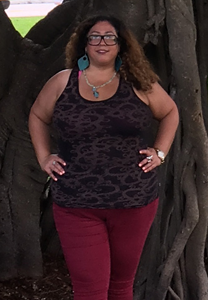 Raquel Nuñez se unió al equipo de GGJ en junio de 2017 como Coordinadora de Operaciones y Asistente Ejecutiva. La comprensión y el compromiso de Raquel con la construcción de movimiento proviene de sus 3 años trabajando con LVEJO, la Organización de Justicia Ambiental de Little Village en Chicago, donde fue entrenada en la toma de decisiones basadas en el consenso y la necesidad de crear un sentido sostenible de conciencia dentro de sí misma. A través de su formación se le enseñó por qué es importante centrarse en la creación de más parques y espacios de jardines en la comunidad, y participó en la campaña de aire limpio que actualmente está trabajando en la rehabilitación del sitio de una central de carbón retirada. LVEJO se asoció con la coalición de Chicago Clean Power para la campaña de aire limpio, que fue el catalizador para cerrar las dos centrales de carbón en el área de Chicago. Raquel también pasó 4 años trabajando en la Fundación de Investigación de la MPN donde fue Directora de Extensión Comunitaria. Raquel es visionaria, pintora y poetisa y planea utilizar todas sus habilidades para fortalecer la construcción del movimiento popular y cambiar el sistema. Raquel@ggjalliance.org
"Mi pasión por la construcción de movimiento y la justicia ambiental es cada vez mayor. He estado comprometido y empleado en las organizaciones de justicia social durante más de ocho años, ayudando en el liderazgo y ejecución de visiones, campañas y programas. Y he sido parte activa de las comunidades locales para promover las causas de la justicia ambiental y social, específicamente he trabajado para campañas populares de base dirigidas a la justicia ambiental y he dirigido programas de liderazgo juvenil que promueven proyectos de infraestructura verde. Mi trabajo en GGJ es apoyar, sostener y promover la estabilidad de Operaciones y Administración en GGJ con la intención de fortalecer la capacidad de la organización para satisfacer mejor sus necesidades en materia de vivienda, lucha contra la violencia y contra la criminalización, especialmente bajo el estado actual de la administración.  Estoy muy agradecida y muy emocionada de trabajar con el las increíbles organizaciones miembros que forman este movimiento." - Raquel Nuñez
---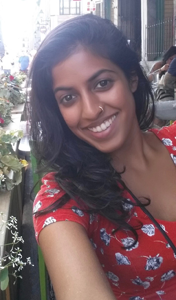 Priya Johnson se une al equipo de GGJ como contratista este verano para desarrollar y coordinar la Escuela Organizadora Feminista 2017. Se metió en tema del mundo de la justicia social como joven voluntaria con Project South, donde ayudó a organizar el primer Foro Social de los Estados Unidos. Continuó trabajando en muchos contextos internacionales en temas que van desde la salud reproductiva hasta los derechos de los refugiados. Más recientemente, Priya fue un organizador de educación con Youth United for Change en el norte de Filadelfia. Ella ha ayudado a construir currículo de educación política para numerosos proyectos, incluyendo un curso el verano pasado sobre modelos económicos alternativos para la Universidad Sin Fronteras en Puerto Rico. Priyagrassroots@gmail.com
"Como mujer de color e hija de inmigrantes, realmente creo que nuestros movimientos sociales tienen que construir una visión de una economía feminista solidaria.  Me inspiro en el trabajo de los miembros de GGJ y me emociona aprender de cada uno de ustedes en FOS17! " - Priya Johnson
---
Apreciando y Honrando a los miembros anteriories del equipo de GGJ
Helena Wong ha sido parte de la familia GGJ desde 2004 cuando participó en su primera delegación GGJ al Foro Social Mundial en Mumbai. Desde entonces, ha desempeñado un papel en los grupos de trabajo y comités, ha sido elegido para el Comité Coordinador representando a CAAAV: Organizando Comunidades Asiáticas, sirvió en el consejo de administración, entró como un consultor para planificar la Asamblea de la Membresía del 2014, y luego dedicó los últimos tres años como una organizadors nacional, lanzando el capítulo estadounidense de la Marcha Mundial de las Mujeres.
Como dijo Helena en su carta a la membresía: "Decir que GGJ ha sido una gran parte de mi desarrollo político sería una narración incompleta. GGJ es más grande, más fuerte, y nuestro trabajo ahora es más claro que nunca. En estos tiempos políticos inciertos, y los miembros del GGJ están a la vanguardia del estilo de organización transformadora más dinámica de todo el país.  Estoy tan feliz de haber trabajado con todos ustedes y humillada por todo lo que hacen." Helena es ahora una Organizadora de Campo Nacional con Seeding Change, un Centro para el Movimiento de Movimiento Asiático-Americano. Te agradecemos Helena!
Cynthia Oka se unió al personal de GGJ en el otoño de 2015 como nuestra primera Coordinadora Administrativa y Logística. Dentro de dos meses de estar en el trabajo, ella coordinaba la logística para la delegación grande que llevamos a París en diciembre de 2015 para las reuniones climáticas de la ONU. Cynthia consiguió que nuestra casa estuviera en orden, creando sistemas fáciles de usar y asegurando estructuras administrativas funcionales que hicieran nuestra alianza mas fuerte y saludable.
Como dijo Cynthia en su carta a la membresía: "Ha sido un inmenso honor y alegría trabajar con GGJ en el último año y medio ... Me he inspirado y aterrada en la poderosa solidaridad, la audaz visión y el coraje ilimitado de las comunidades de base a través de los Estados Unidos y más allá, por eso estoy eternamente agradecida... Mi corazón y espíritu luchan junto a ustedes - siempre - por un presente donde la justicia, la dignidad y la liberación ya no son aspiraciones, sino una práctica y un mundo vivo en cada respiración. Porque somos los que hemos estado esperando. Porque este es nuestro tiempo." Cynthia se está centrando ahora en la organización de la justicia de los migrantes en Filadelfia como Organizador Comunitario con el Nuevo Movimiento del Santuario. ¡Te agradecemos Cynthia!
Beth Patel se unió por primera vez al equipo de GGJ para coordinar nuestra caravana popular "Se necesitan raíces" desde el RNC hasta el DNC el verano pasado 2016, y luego contrató con GGJ para liderar las comunicaciones para el trabajo Se Necesitan Raíces para Cultivar la Resistencia durante los primeros 100 días De la administración Trump. Ella ahora está para conseguir un grado de la ley y esperamos llamarla en ella en el futuro cuando ella es una abogada para la gente. ¡Te agradecemos Beth!
Mari Morales-Williams se unió al equipo y corrió a toda velocidad en abril de 2017 coordinando la logística para nuestra gran delegación a Washington DC para la Marcha por el Clima, el Empleo y la Justicia. ¡Te agradecemos Mari!
Egina Manachova coordinó una campaña de recaudación de fondos "Give to Grow the Resistance" que recaudó $ 10.000 para "Se Necesitan Raíces para Cultivar la Resistencia." ¡Te agradecemos Egina!