In July of 2016, GGJ organized a People's Caravan of 50 frontline community leaders from the U.S. and Honduras. We traveled from the Republican National Convention in Cleveland to the Democratic National Convention in Philadelphia. The caravan was a call to action from working class communities to confront the growing public acceptance of racism and xenophobia, to reclaim feminisms at the grassroots, to build a new economy, and end U.S. military intervention across the world.
In the midst of a storm, we called out racist anti-black violence and violence on LGBTQ and gender non-conforming people of color. We called out the criminalization of protest as a response by the police state when people express rage, the normalization of white rage, and the rising hostility against people of color and immigrants. We called out U.S. intervention abroad that contributes to the loss of lives like Berta's. As well grieved, we refused to accept these conditions as the new normal, to depend on the two major political parties to change a system that is not working for most of us. Because we believe that it takes roots to weather the storm and change the system, we pledged resistance. With love for our people in our hearts, we embarked on the People's Caravan.
In Cleveland, we joined Mijente in the Wall Off Trump action and then launched the caravan, pledging our resistance. In our journey to Pittsburgh, we partnered with the Ohio Organizing collaborative to canvass in Ohio. In Pittsburgh, we joined the United Electrical, Radio, and Machine Workers of America and brought a report back from the RNC and the Justice for Berta campaign. We then traveled to Baltimore where we joined Black-led organizations holding an action near the site of Freddie Gray's death. We also had an organizer exchange over bread with Baltimore BLOC.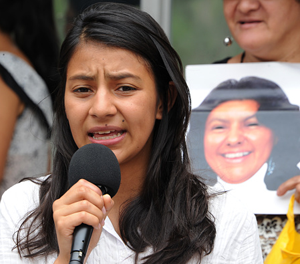 In Philadelphia, we marched for a Clean Energy Revolution, we joined a panel by JUNTOS and #Not1More on the State of Migration, and, with Action United, Philly Thrive, and LeftRoots, we participated in the Toxic Tour of the South Philly Pes refinery and the communities fighting its expansion. Over the course of two days, we held Justice for Berta Cáceres actions because "Berta didn't die, she multiplied!" Two members of COPINH joined the caravan, Berta's daughter Laura Yolanda Zuñiga Cáceres and Rosalina Dominguez Madrid. Together, we called for justice for all indigenous leaders assassinated by the Honduran military, including Tomás García who was killed during a peaceful protest against the Agua Zarca Dam.
---
The People's Caravan Media Library:
Cleaveland, July 20th – Wall Off Trump
Cleaveland, July 21 – Pledge of Resistance
Pittsburgh, July 23: Pittsburgh: RNC Reportback
Baltimore, July 24: Black Lives Matter
Philadelphia, July 25: Justice for Berta Cáceres
GGJ held an online national report out where our members shared their experiences on the Caravan, key lessons we brought back to our communities, and the next steps.
Reflections from Caravanistas:
Caravanistas:
Timmy Lu, Asian Pacific Environmental Network (APEN), Oakland CA
Leticia Arce, Causa Justa::Just Cause, Oakland, CA
Gloria Esteva, Causa Justa::Just Cause, Oakland, CA
Lucia Lin, Chinese Progressive Association, San Francisco, CA
Mauro Barrera, Communities for a Better Environment (CBE), Los Angeles, CA
Rosemary Zayas, Communities for a Better Environment (CBE), Los Angeles, CA
Laura YOlanda Zuñiga Cáceres, Civil Council of Popular and Indigenous Organizations (COPINH), Honduras
Rosalina Dominguez Madrid, Civil Council of Popular and Indigenous Organizations (COPINH), Honduras
Sara Mersha, Grassroots International
Alberto Saldamando, Indigenous Environmental Network
Matt Howard, Iraq Veterans Against the War
Ramon Mejia, Iraq Veterans Against the War
Clare White, Kentuckians for the Commonwealth
Toby Fatzinger, Kentuckians for the Commonwealth (KFTC)/FFOYA House
Margaret Kwateng, LeftRoots/Nobody Leaves Mid-Hudson, Poughkeepsie, NY
Nay'Chelle Harris, Mirrourians Organizing for Reform and Empowerment (MORE), St. Louis, Missouri
Maria Morales, Mujeres Unidas y Activas
Neira Ortega, Mujeres Unidas Y Activas
Drew Christopher Joy, Southern Maine Workers Center
Ronald Flannery, Southern Maine Workers Center
Samia Assed, SouthWest Organizing Project (SWOP), Albuquerque, NM
Stefany Olivas, SOuthWest Organizing Project (SWOP), New Mexico
Daryl McElveen, Vermont Workers Center
Will Bennington, Vermont Workers Center