GGJ members and allies have been arriving in Detroit since yesterday for our 6th Membership Assembly, hosted by East Michigan Environmental Action Council (EMEAC)!
As an alliance, we look to Detroit for inspiring examples of how communities have responded to exploitation and abandonment by creating alternatives that build community power through environmental justice education, youth development and collaborative relationship building.
We are converging in Detroit to imagine and plan out a Just Transition away from the fossil fuel economy toward an economy for people and the planet.  Folks are coming from as far away as Jakarta and Guatemala, from Los Angeles to Bellingham WA, from Albuquerque NM to Alabama, from Miami to Vermont, and as close as Chicago, Minneapolis and of course Detroit.
Follow the GGJ Membership Assembly on social media this week:
Twitter: @ggjalliance, @EMEAC, #JustTransition, #NextEconomy, #GenderJustice, #ClimateJustice, #EconomyForLife, #grassrootsglobaljustice, #GlobalFeminism
Facebook: Grassroots Global Justice Alliance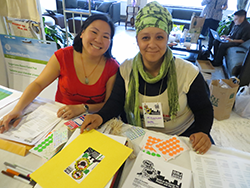 Donate to support GGJ and EMEAC!
Will you donate $10, $25, $50 or $100 to support this crucial work? All contributions in response to this appeal will be split 50/50 between GGJ and EMEAC. We will greatly appreciate any amount larger or smaller that you are able to contribute. All donations will be tax-deductible.
Click Here to Support GGJ and EMEAC in organizing the GGJ Membership Assembly